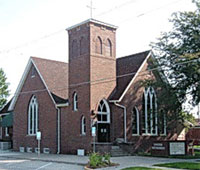 The Adel United Methodist Church is a body of believers in Christ, seeking to grow in God's Word, striving to serve the Lord, and caring to reach out to others to share God's love.
The church is more than a building, more than individuals living in faith. The church is not an "it" or an inanimate object.
The church is not a "he" or "she," based on one person and his or her good works; instead, the church is "we"– the body of Christ, each of us playing a unique role, jointly coming together to praise God and to unite as a living, breathing entity.
We are a family, and we encourage each other and give each other support. We aren't perfect, so if you are looking for the perfect church, please do not come here.
However, if you would like to join us imperfect sinners as we journey to walk closer to Christ, the doors are open. We warmly welcome you and invite you to worship with us!
We are fully handicap accessible.
Emmaus and Chrysalis
The Adel United Methodist Church has a large Walk to Emmaus and Chrysalis community within the congregation.
Emmaus is a personal faith and leadership growth experience. It is a 72 hr. weekend journey where you learn about the love and grace of Christ through a series of 15 talks given by laity and clergy. You will experience Christ throughout the weekend.
Chrysalis is the same journey only for youth growth and development. The talks are done in a youth oriented format. It is for youth 14 through 20 years of age. Website: iowawalktoemmaus.org