« Back to Events
Event:

Good Samaritan Adel Food Pantry

Start:

July 31, 2017 12:00 pm

End:

July 31, 2017 2:00 pm

Updated:

November 21, 2016

Schedule:

Every week until January 29, 2018 (See all)
Venue:

Phone:

515 993-3791

Address:
Google Map

115 South 10th St

,

Adel, IA

,

50003

,

United States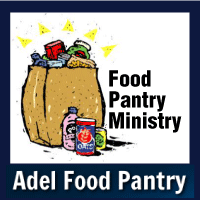 The Good Smaritan Food Pantry serves the residents of the ADM School District and the town of Van Meter Iowa. 100% of your tax-deductible donation will go to purchase food and supplies for Adel area citizens in need.
If you are not able to drop off food – please consider a cash donation.
Thank you for your generous support to help those less fortunate!
Good Samaritan Adel Food Pantry
Hours: Noon – 2:00 pm Monday and Wednesday
Located at Adel United Methodist Church
115 South 10th. St.
Adel, Iowa 50003
Phone: (515) 423-0753
Website: www.adelfoodpantry.com
iCal Import
+ Google Calendar